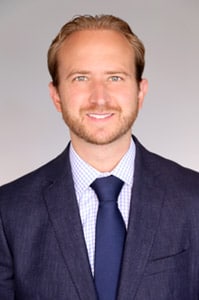 CALL TO BE ADDED TO THE WAITLIST FOR ONE TIME EVALUATIONS WITH DR. PAGNANI.
OR SCHEDULE WITH OUR COLLEAGUES AT RITTENHOUSE PSYCHIATRIC ASSOCIATES.  SEPARATE POLICIES AND FEES APPLY. CLICK HERE FOR MORE INFORMATION.
All One-Time Evaluations are Virtual. 
ABOUT DR. CHRIS PAGNANI
Chris Pagnani, MD is an Instructor at The Johns Hopkins Hospital for the Department of Psychiatry and Behavioral Sciences, he supervises Resident Physicians in Psychiatry at Jefferson Hospital, he is the Medical Director and Founder of Rittenhouse Psychiatric Associates and he maintains a private practice of Psychiatry in Center City, Philadelphia. He is Board Certified by the American Board of Psychiatry and Neurology and is a member of the American Psychiatric Association. 
Dr. Pagnani is a licensed Physician and Surgeon in Pennsylvania (PA), New Jersey (NJ), Delaware (DE), Maryland (MD), Florida (FL), New York (NY) and California (CA). Therefore, he can provide one-time virtual consultations to individuals living in any of these states. 
ABOUT OUR EVALUATIONS
Dr. Pagnani is no longer able to accept new patients into his private practice. However, he is offering one-time 3 hour Psychiatric Evaluations with family & significant other involvement, complete with an individualized report of the patient's medical and psychiatric history, applicable diagnosis and recommendations for the patient's long-term provider. Conditions evaluated include Anxiety Disorders (Panic Disorder, Generalized Anxiety Disorder, Obsessive Compulsive Disorder and PTSD), Mood Disorders (Major Depressive Disorder, Bipolar Affective Disorder Types 1 and 2, Dysthymia, Pre-Menstrual Dysphoric Disorder and Postpartum Depression) and ADHD. He is also trained in the "de-prescribing" of Psychiatric medications, and can evaluate and provide recommendations on tapering off of medications such as SSRIs (Paxil, Prozac, Zoloft, Lexapro, Celexa), SNRIs (Cymbalta & Effexor), benzodiazepines (Xanax, Ativan, Valium, Klonopin), and sleep medications (Ambien, Lunesta and others). Individuals struggling with substance use disorders may be appropriate, if they are not physiologically dependent (under the influence, intoxicated or in withdrawal) at the time of the evaluation. If patients are under the influence, or in significant withdrawal, it may impact the accuracy of the evaluation, and detoxification would be recommended before an evaluation. 
Dr. Pagnani blocks 3 hours off for these evaluations. With patient consent, evaluations typically consist of 20 – 30 minutes with the patient AND family and/or a significant other, followed by 90 – 120 minutes with the patient one-on-one. While most evaluations allow for an hour of report writing (average length of about 2 hours) if a patient requires the full 3 hours, there will be no additional charge for the report. However, evaluations do not (no exceptions) go over 3 hours, and if a patient is late, they will be seen for the remainder of their reserved 3 hour time. Even if patients or family request otherwise, Dr. Pagnani requires that the bulk of the evaluation is one-on-one, as he has found that patients may minimize (or avoid) the scope of their symptoms and/or behaviors impacting them, if loved ones are present while discussing those parts of the history. This is why including family and significant others in the first 20 – 30 minutes, can be so important. Family involvement is not necessary in all instances, and it is NOT required. 
It is recommended that patients provide Dr. Pagnani with any records from previous evaluations and/or treatment and a list of medication trials (including medication doses, effects, side effects and the duration of trials) a week ahead of their visit. We recommend that patients may ask their previous providers for a summary of care. Asking pharmacies for prescription records can also be helpful. Having the ability to review records before a patient even walks into the room, can be very helpful to allow the doctor to know what items or issues from the patient's history will demand the most attention and detail. Dr. Pagnani is not responsible for reviewing any history before the appointment, which is received less than a week ahead-of-time. Lastly, the cancellation policy still applies, when information from third parties is not received in-time.
It is very important to note, that Dr. Pagnani's private practice is full, and he is unfortunately not able to take new patients into his caseload at this time. Therefore, patients must understand that these one-time evaluations do not enter them into a patient doctor relationship with Dr. Pagnani. They should be thought of as one-time consultations or second opinions. Having this evaluation does not result in an open chart with our practice, which means that Dr. Pagnani will not be available to the patient before or after the visit (for additional appointments, medication fills, urgent or emergency situations, FMLA forms, disability forms, custody letters or forms, weapons permit forms, accommodation letters or any other items that are generally handled by a patient's long-term provider). Dr. Pagnani additionally does NOT write for any medications at these consults (or after) for patients evaluated. Patients may take Dr. Pagnani's report to their current, or future providers, who may utilize the information within, for future medication decision making, at their professional discretion. Dr. Pagnani is not responsible any medical decision making, consenting, side effects, or any morbidities that occur, due to another provider's actions, even if his report or collaboration is part of that medical decision making. 
Dr. Pagnani will make himself available to discuss his report and evaluation with an individual's current or future providers, as a one-time courtesy. Individuals would need to sign a release with their provider, and then have their provider reach directly out to Dr. Pagnani. 
If patients are assessed at the time of the evaluation as being in crisis or requiring emergency services, Dr. Pagnani will ask the patient to call 911 or go to the nearest emergency room for immediate intervention. Patients will still be responsible for the consultation fee. Dr. Pagnani will not prescribe medications, even in cases where a patient is assessed as being in withdrawal. In these instances patients are also asked to go to their nearest ER or urgent care. 
If a patient would like enter into long-term care with another provider at Rittenhouse Psychiatric Associates, they may contact scheduling approximately 2 weeks after their appointment with Dr. Pagnani. Patients will undergo the practice's screening protocol (which is in place for safety reasons, as our providers do not have inpatient admitting privileges or true emergency coverage). Patients will also be scheduled based on provider availability and state and federal regulations (for example, an in-office appointment is required for initial visits with prescribers). Waiting 2 weeks from the consult allows time for their report to be finalized, and allows Dr. Pagnani time to discuss the case with potential providers. Having an evaluation with Dr. Pagnani does NOT guarantee the ability to establish long-term care with another provider at Rittenhouse Psychiatric Associates. Patients who are scheduled with another provider in the practice are seen for a 45-minute visit (at that provider's 45-minute rate) for their initial visit (and then they likely will move to "medication management" visits). Patients may also inquire about psychotherapy services with our practice as well. A patient's chart is "closed" with our office, until they meet with their new (long-term) provider for their first visit. I.E. even if an individual who has a one-time evaluation is planning on becoming a patient at Rittenhouse Psychiatric Associates, no care, appointments, forms, additional follow-up, prescriptions, urgent or emergency calls or care, or recommendations are made by Dr. Pagnani or any provider at our office, until they establish care at an initial visit, with their new long-term care provider. 
*Of note, if an individual does schedule with a provider at Rittenhouse Psychiatric Associates, Dr. Pagnani will make himself available to that provider, throughout the patient's care, upon their new provider's request. Dr. Pagnani has regular supervision meetings and office hours with the providers within the practice, and he does not charge for any additional collaboration. With that said, Dr. Pagnani does not interfere (or triangulate) with a patient's care. In these instances, he does not have separate discussions with the patient, their family or spouse, or respond to emails/ calls from individuals whom he previously provided one-time evaluations for. Any calls, emails or requests will be forwarded to the individual's long-term provider within the practice, who will be responsible for their care.
The providers at Rittenhouse Psychiatric Associates do not have inpatient admitting privileges, true emergency coverage or on-call social workers or medical residents. Therefore, if a patient has a history of inpatient psychiatric admissions, psychosis, suicide attempts, or is assessed as high risk, we will be unable to schedule them for follow-up within our practice for safety reasons. There are also incidences where substance use disorders may be severe, and warrant providers with additional services, resources and competencies (and thus, those individuals would be referred out of the practice as well). 
Information on Rittenhouse Psychiatric Associates (and the Psychiatrists, Psychiatric Nurse Practitioners and Psychotherapists that Dr. Pagnani works with) can be found at www.RittenhousePA.com.